The
Egypt
faction
is a faction belonging to the
MegaPack
techtree
. Egypt's units range from the weak spearman to slightly more potent scarabs to the mighty ibis. The Egypt faction was made by Titus Tscharntke with some contributions by Weedkiller.
The Egypt faction was initially announced 4 March 2009, and was released as an alpha twice on 11 October 2009 and 14 October 2009. The faction was later merged into the MegaPack.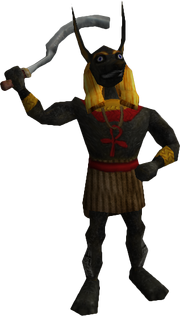 Air pyramid
Anubis warrior
Chicken
Desert camp
Farm
Ibis
Mummy
Obelisk
Priest
Pyramid
Scarab
Slave
Snake
Spearman
Spearthrower
Sphinx
Temple
Power of ra
Spear weapons
Speedup priest production
Summon ibis
Summon scarab
Image gallery
Edit
Ad blocker interference detected!
Wikia is a free-to-use site that makes money from advertising. We have a modified experience for viewers using ad blockers

Wikia is not accessible if you've made further modifications. Remove the custom ad blocker rule(s) and the page will load as expected.