Indian
Techtree
Creator

Titus and Philipp Tscharntke

Version

3.6.0.2

Download link
File size

Varies

Archive format

Varies
The Indian were the first faction created by Titus Tscharntke and his son, Philipp, and would become a part of the MegaPack techtree at the same time as the Norsemen, with its initial conception. The Indian are a large faction based off the Native American image, with units ranging from very cheap stickfighters to more potent fire archers to powerful fire golems. The Indian faction is the only MegaPack faction to use the housing resource.
The Indian faction was started on 22 April 2007, and officially released on 11 July of the same year, with a few betas inbetween. The faction was updated to version 1.1 on 20 January 2008.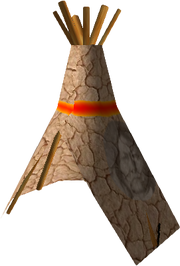 Archer
Axe indian
Axe thrower
Beehive
Bigtent
Bull
Campfire
Fire archer
Firegolem
Horsefarm
Horseman
Mainteepee
Reed
Roundtent
Shaman
Spearman
Stickfighter
Tent
Thunderbird
Totem
Worker
Bullfood
Iron
Iron advanced
Petroleum
Stables
Training field
The Indian faction contains many retextured models from Magitech, such as the horseman (based on the Tech unit of the same name) and the shaman (based on Tech's technician). Only the spearman and buildings are original models. The Indian faction also makes use of MegaGlest's extended particle capabilities.
Image gallery
Edit
Ad blocker interference detected!
Wikia is a free-to-use site that makes money from advertising. We have a modified experience for viewers using ad blockers

Wikia is not accessible if you've made further modifications. Remove the custom ad blocker rule(s) and the page will load as expected.