The
Romans
faction
by Jacob Vejvoda (ElimiNator) is a faction in the
MegaPack
techtree
.The Romans faction is comparable with Tech in terms of gameplay and unit costs, with units ranging from a simple archer to a powerful gladiator to the brutally powerful general.
The initial concept for the Romans faction was introduced by -Archmage- on 1 September 2009. The current version of the faction is entirely the works of Jacob Vejvoda. Along with the initial announcement, an alpha was released. Several minor releases used a date-oriented version numbering system before reverting back to the previous version numbering. Version 2 was released on 2 October 2009, with version 3 following on 9 January 2010.
Official description
Edit
"
This is a Roman faction with the ancient Romans. You will use their military prowess to conquer the lands of Tech and Magic, the inferior races of Glest. OR....at least that's what General Galerius told me. Speaking of Galerius, he told me to tell you: "My legions are yours my gods". In other words, you have command of his massive legions.

May luck greet you kindly,
Caesar, Emperor of Rome

"

–Forum thread, [1]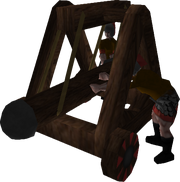 Archer
Axe man
Ballista
Battering ram
Blacksmith shop
Catapult
Cavalry
Cow
Eagle pillar
Fire archer
Forum
General
Gladiator
Gladiator school
Guard
Guard tower
Military camp
Slave
Spearman
Swordsman
Temple
Training camp
Tribune
Turtle formation
Wartime mechanic
Advanced architecture
Bless of minerva
Enlarge shields
Formations
Jupiter
Reinforce armor
Sharpen points
Sign of mars
Strengthen swords
Training field
Image gallery
Edit
External links
Edit
Ad blocker interference detected!
Wikia is a free-to-use site that makes money from advertising. We have a modified experience for viewers using ad blockers

Wikia is not accessible if you've made further modifications. Remove the custom ad blocker rule(s) and the page will load as expected.